To celebrate the 300th anniversary of the Pilgrims landing at Plymouth, Massachusetts, Congress authorized the Pilgrim Tercentenary Half Dollar (Buy on eBay). The commemorative coins were issued with two different dates, setting a precedent that would be followed by future issues.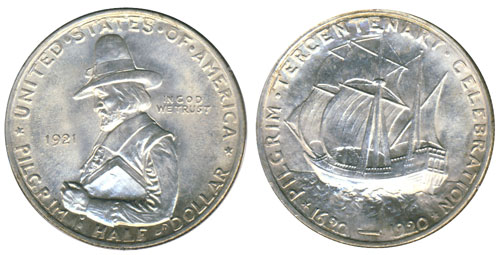 The obverse of the Pilgrim Half Dollar features a depiction of Governor William Bradford holding a Bible. Surrounding inscriptions read "United States of America" and "Pilgrim Half Dollar". The field behind the Pilgrim includes the motto "In God We Trust" and the field before includes the date "1921". Pieces minted in 1920 do not carry a date on the obverse.
The reverse of the coin features the Mayflower, the ship which carried the Pilgrims to Plymouth. Inscriptions read "Pilgrim Tercentenary Celebration" and "1620-1920". Both the obverse and reverse were designed by Boston sculptor Cyrus E. Dallin based on sketches provided by the Pilgrim Tercentenary Commission.
A quantity of 200,000 coins were initially produced at the Philadelphia Mint in 1920. These were sold by the Pilgrim Tercentenary Commission for $1 each.
Although the existing production was not completely sold out, the Commission requested production of the remaining 100,000 coins of the 300,000 maximum authorized mintage. These would carry the date "1921" on the obverse, differentiating them from the original issue. Sales of the additional issue were poor and eventually 48,000 of the original issue and 80,000 of the second issue were returned to the Mint for melting.

Pilgrim Tercentenary Half Dollar Coin Specifications
Designer: Cyrus E. Dallin
Composition: 90% silver, 10% copper
Weight: 12.50 grams
Diameter: 30.6 mm
Authorization: Public Law 66-203
Maximum Authorized Mintage: 300,000
Pilgrim Tercentenary Half Dollar Mintages
1920: 152,112
1921: 20,053