One of the lower mintage early commemorative coins that commands a premium across all grade levels is the 1935 Old Spanish Trail Half Dollar (Buy on eBay). Total distribution was only 10,008 coins, including the pieces struck for assay.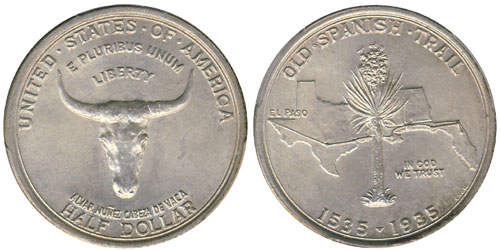 The present issue was authorized to mark the 400th anniversary of the "Old Spanish Trail", which extended from Florida to El Paso. This was the path traveled by the pioneer Alvar Nunez Cabeza de Vaca during the years 1528 to 1536. The authorizing legislation was passed due to the efforts to L.W. Hoffecker, who set up the El Paso Museum Committee to distribute the coins. He would also create the designs for the coins, which would be modeled by Edmund J. Senn. Some numismatic literature has questioned the appropriateness of this issue and claimed that it was produced to the benefit of a "one-man operation".
The obverse of the coins featured the head of a cow, which is a literal translation of part of the explorer's last name Cabeza de Vaca. The inscriptions include "United States of America", "E Pluribus Unum", and "Liberty" above, with "Alvar Nunez Cabeza de Vaca" and "Half Dollar" below. On the reverse is a section of the southeastern United States with a line marking the trail. A yucca tree in bloom is superimposed over the central portion of the map. Inscriptions include "Old Spanish Trail", "El Paso", "In God We Trust", and the dates "1535 – 1936".
The Old Spanish Trail Half Dollars were sold at an issue price of $2 each and were widely distributed. The entire maximum authorized mintage of 10,000 coins was sold out. The low mintage and wide distribution contribute to the current high premiums for the coins.
Only two other silver commemorative half dollars had a low mintage of 10,000 coins. The two issues were the Hudson Sesquicentennial Half Dollars issued in 1935 and the Hawaiian Sesquicentennial Half Dollars issued in 1928.

Old Spanish Trail Half Dollar Coin Specifications
Designer: L.W. Hoeffecker
Composition: 90% silver, 10% copper
Weight: 12.50 grams
Diameter: 30.6 mm
Authorization: Public Law 74-97
Maximum Authorized Mintage: 10,000
Old Spanish Trail Half Dollar Mintage
1935: 10,008