The 1921 Alabama Centennial Half Dollar (Buy on eBay) celebrated the 100th anniversary of statehood two years after the fact. Also of note, this represented the first U.S. coin to depict a living person.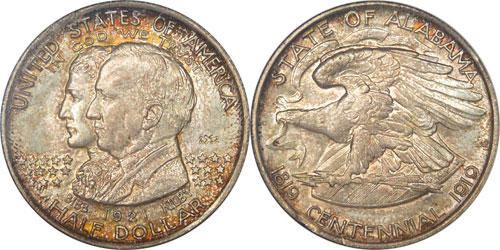 Authorization for 100,000 of the silver half dollars had been received in May 1920, with the coins to be produced "as soon as practicable." The design proposal and discussion by Alabama Centennial Commissions Discussion was not concluded until 1921, by then the 102nd anniversary of Alabama's statehood.
The Alabama Centennial Half Dollar obverse featured portraits of William Wyatt Bibb, the first governor of Alabama, and Thomas E. Kilby, the current governor. Twenty two stars are arranged to each side of the portrait. Some coins were struck with "2X2" in the right field above the stars. Although this was intended to be a scarcer variety, ultimately the number of plan and "2X2" coins were very close. Inscriptions on the obverse include "United States of America", "In God We Trust", "Bibb", "Kilby", "1921", and "Half Dollar."
The reverse of the coin features an eagle perched on a shield, which is based on the Alabama State Seal. Inscriptions include "State of Alabama", "1819", "Centennial", "1919", and on the ribbon in the eagle's beak "Here We Rest", which is the state motto. Laura Gardin Fraser designed both the obverse and reverse of the coin.
Sales of the 1921 Alabama Centennial Half Dollar began on October 26, 1921 to coincide with President Warren Harding's visit to Birmingham, Alabama. The coins were distributed by through banks at a cost of $1 each.

Alabama Centennial Half Dollar Coin Specifications
Designer: Laura Gardin Fraser
Composition: 90% silver, 10% copper
Weight: 12.50 grams
Diameter: 30.6 mm
Authorization: Public Law 66-200
Maximum Authorized Mintage: 100,000
Alabama Centennial Half Dollar Mintages
1921 "2X2": 30,000
1921 Plain: 35,000