Some of the problems that had occurred for earlier commemorative issues, reemerged with the Booker T. Washington Half Dollar (Buy on eBay). Authorized in 1946, the coins would be struck in five separate years across three different mint facilities, in an attempt to maximize sales. Eventually, more than one million coins were distributed.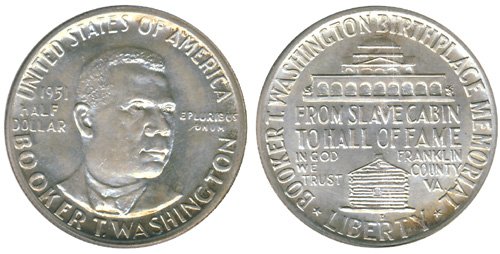 The artist Charles Keck, who had previously designed the Panama Pacific Gold Dollar, Vermont Half Dollar, and Lynchburg Half Dollar, had initially been approached to create the designs for the coin. He proceeded, while unbeknown another artists Isaac Scott Hathaway offered to prepare models free of charge based on a life mask of Booker T. Washington. Eventually, Hathaway's obverse model was accepted by the Commission of Fine Arts and he prepared a new reverse based on their feedback. Keck was paid for his work, but his models were not used.
The obverse design features a portrait of Washington, with inscriptions "United States of America", "Booker T. Washington", "Half Dollar", "E Pluribus Unum", and the date. On the reverse was an image of the Hall of Fame at New York University and a log cabin. The extensive inscriptions include "Booker T. Washington Birthplace Memorial", "Liberty", "From Slave Cabin to Hall of Fame", "In God We Trust", and "Franklin County VA".
The Booker T. Washington Half Dollars were minted in large numbers for the first year of issue and offered by the Booker T. Washington Birthplace Memorial Commission priced at $1 for the Philadelphia or San Francisco issues and $1.50 for the lower mintage Denver issue. Although a large number were sold, a quantity of coins were melted and some appear to have been released into circulation.
In subsequent years, the coins were offered by coin firms engaged as authorized agents of the commission for $6 per three coin set. Mintages were considerably lower for these later issues, with the exception of the 1950 San Francisco and 1951 Philadelphia issues. These coin were minted in larger quantities as part of a promotion involving schools and hospitals. Records involving this issue are somewhat incomplete, resulting in estimated distribution figures included below.
This issue was not produced with the care exercised for most previous commemorative coins. Many pieces will have abrasions or contact marks on the highest points of the design, most notably the cheek of the obverse portrait. Complaints about the condition of the coins were common during the period of issuance.

Booker T. Washington Half Dollar Coin Specifications
Designer: Isaac Scott Hathaway
Composition: 90% silver, 10% copper
Weight: 12.50 grams
Diameter: 30.6 mm
Authorization: Public Law 79-610
Maximum Authorized Mintage: 5,000,000
Booker T. Washington Half Dollar Mintage
1946: 700,546
1946-D: 50,000
1946-S: 500,279
1947: 6,000
1947-D: 6,000
1947-S: 6,000
1948: 8,005
1948-D: 8,005
1948-S: 8,005
1949: 6,004
1949-D: 6,004
1949-S: 6,004
1950: 6,004
1950-D: 6,004
1950-S: 62,091
1951: 210,082
1951-D: 7,004
1951-S: 7,004