The Maine Centennial Half Dollar (Buy on eBay) was authorized by Congress to celebrate the 100th anniversary of the formation of the state of Maine. At the time of release there was a fair amount of criticism leveled at the design, which was based on the state arms.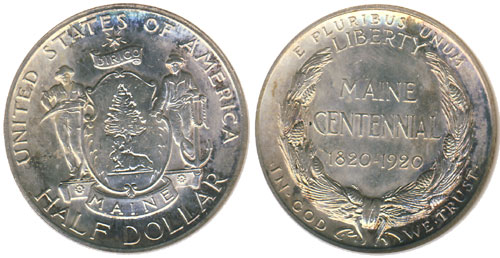 The maximum authorized mintage for the coins was 100,000 pieces. Initially the coins were intended to be issued into circulation at face value, but ultimately the coins were sold by the Maine Centennial Commission to the public for $1 each. The Philadelphia Mint produced 50,028 coins, with the unsold quantity retained by the Maine State Treasurer, rather than melted.
Designs for the coins were prepared by Anthony Di Francisci, designer of the Peace Dollar. He was enlisted by the Commission of Fine Arts to prepare models based on sketches from by Harry H. Cochrane. The obverse features the state arms with the Latin word "Dirigo" meaning "I direct" and "Maine". Surrounding inscriptions read "United States of America" and "Half Dollar".
The reverse of the coin contains a pine wreath with the inscription "Maine Centennial 1820-1920" within. Additional inscriptions read "E Plurisbus Unum", "Liberty", and "In God We Trust".

Maine Centennial Half Dollar Coin Specifications
Designer: Anthony Di Francisci
Composition: 90% silver, 10% copper
Weight: 12.50 grams
Diameter: 30.6 mm
Authorization: Public Law 66-199
Maximum Authorized Mintage: 100,000
Maine Centennial Half Dollar Mintage
1918: 50,058