The 1936 Cleveland Centennial Half Dollars (Buy on eBay) were struck for the 100th anniversary of the founding of the city to coincide with the Great Lakes Exposition held on the shore of Lake Erie. The reverse design is particularly interesting for its creation of perspective on the surface of a flat coin.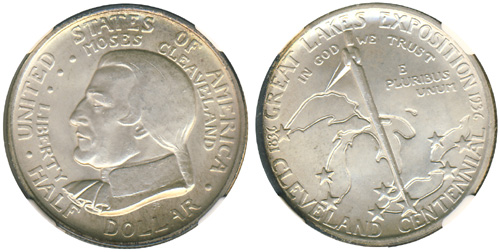 The maximum authorized mintage for the issue was 50,000 pieces. Initially half of this quantity was struck at the Philadelphia Mint. After additional demand was anticipated, the remaining 25,000 coins were ordered. These were also struck in the Philadelphia Mint, but with production taking place in 1937. Because of the stipulations of the authorizing legislation, these coins carried the same 1936 date and are indistinguishable from the earlier strikes.
Designs for the Cleveland Half Dollars were created by Brenda Putman. The obverse features a left facing portrait of Moses Cleaveland, the founder of the city. Inscriptions read "United States of America", "Moses Cleaveland", "Liberty" and "Half Dollar". The reverse depicts a map of the Great Lakes area with stars placed at the location of prominent cities. A compass appears above the map with the point at the slightly larger star representing Cleveland. Inscriptions read "Great Lakes Exposition", "1836", "1936", "Cleveland Centennial", "In God We Trust", and "E Pluribus Unum".
With the entire maximum mintage produced at a single mint facility, the 1936 Cleveland Half Dollar remains readily available for present day collectors and affordable even into gem grades. Distracting contact marks will often be seen on the high points of the design, but with patience a pleasing specimen can be located.

Cleveland Half Dollar Coin Specifications
Designer: Brenda Putnam
Composition: 90% silver, 10% copper
Weight: 12.50 grams
Diameter: 30.6 mm
Authorization: Public Law 74-552
Maximum Authorized Mintage: 50,000
Cleveland Half Dollar Mintage
1936: 50,030