The 1925 California Diamond Jubilee Half Dollar (Buy on eBay) is one of the collector favorites amongst early commemorative coins. The issue was authorized to mark the 75th anniversary of California's statehood and featured imagery recalling the famous gold rush.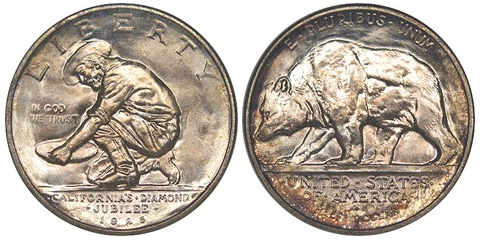 The obverse the coin features a kneeling figure of a "forty-niner" as he pans for gold. Inscriptions include "Liberty", "In God We Trust", "California Diamond Jubilee" and "1925". The reverse features an image of a grizzly bear, which comes from the state emblem of California. Inscriptions read "E Pluribus Unum", "United States of America", and "Half Dollar". Both the obverse and reverse of the California Half Dollar were designed by sculptor Joseph Mora.
Authorization was provided to strike up to 300,000 coins. Production took place at the San Francisco Mint, where 150,000 coins were produced. Distribution was handled by the San Francisco Citizens' Committee with an issuance price of $1 per coin, which had become standard for commemorative half dollar issues. Coins which remained unsold were returned to the mint for melting, resulting in a net distribution of 86,594.

California Half Dollar Coin Specifications
Designer: Joseph Mora
Composition: 90% silver, 10% copper
Weight: 12.50 grams
Diameter: 30.6 mm
Authorization: Public Law 68-452
Maximum Authorized Mintage: 300,000
California Half Dollar Mintages
1925: 86,594