The 1923 Monroe Doctrine Centennial Half Dollar (Buy on eBay) was promoted by the California film industry in connection with the First Annual Historical Revue and Motion Picture Film Industry Exposition. The topic of the coin was the 100th anniversary of the Monroe Doctrine, which stated that efforts of European countries to interfere or establish new colonies in the west would be viewed as acts of aggression. The Doctrine had a long standing impact on U.S. foreign policy.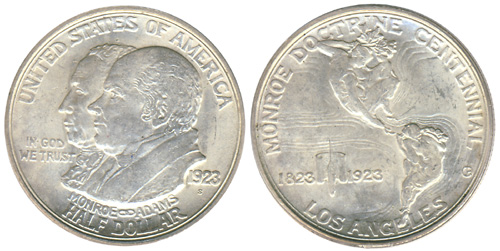 The obverse design of the Monroe Doctrine Half Dollar features portraits of James Monroe and John Quincy Adams, who were both instrumental in formulating the Doctrine. Inscriptions include "United States of America", "In God We Trust", the date of issue "1923", "Monroe", "Adams", and "Half Dollar".
Depicted on the reverse are two female forms in shapes resembling North and South America. This image is said to have copied from a medal created by Ralph Beck in 1899 of the same theme. The artist and medalist Chester Beach is generally credited with the designs for the obverse and reverse of the coin. Reverse inscriptions read "Monroe Doctrine Centennial", with the dual date "1823" and "1923", and "Los Angeles". The later inscription was the only reference to the exposition for which the coins were to be issued.
The Monroe Doctrine Centennial Half Dollars were distributed by the Los Angeles Clearing House and initially sold for $1 each. A vast number of the mintage was eventually released into circulation at face value. Nearly all examples of this issue will be encountered with shallow strikes and characteristically unattractive surfaces. Higher grade mint state examples with an attractive appearance are extremely elusive.

Monroe Doctrine Centennial Half Dollar Coin Specifications
Designer: Chester Beach
Composition: 90% silver, 10% copper
Weight: 12.50 grams
Diameter: 30.6 mm
Authorization: Public Law 67-391
Maximum Authorized Mintage: 300,000
Monroe Doctrine Half Dollar Mintages
1923: 274,077