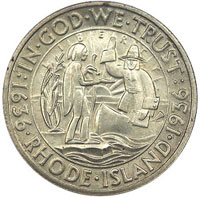 The practice of issuing commemorative coins to mark important people, places, events, or anniversaries would reach its peak in 1936. An outpouring of programs were approved by Congress, each resulting in the issuance of silver commemorative half dollars for a particular occasion.
During 1936, there would be sixteen different newly issued commemorative coins. This was in addition to the continued issuance of coins from previous programs which continued with newly dated coins, sometimes with a variety of different mint marks. The proliferation of releases and some abuses of the program would eventually lead the number of issues to be greatly curtailed in the following years.
Included among the highlights of this era are some striking or uncharacteristic designs such as the Rhode Island Half Dollar which used a simplistic wood cut style and the Cleveland Centennial Half Dollar which provided an interesting portrayal of depth and perspective on the flat surface of a coin. The coin commemorating the anniversary of the Battle of Gettysburg is also popular as a Civil War related collectible. The silver half dollars issued for the Cincinnati Music Center are noted as a low mintage issue.
Detailed Information on 1936 Commemorative Coins