The commemorative coin most commonly referred to as the 1936 Rhode Island Tercentenary Half Dollar (Buy on eBay) was actually issued to mark the 300th anniversary of the founding of Providence by Roger Williams. The maximum authorized mintage was 50,000 pieces, of which the entire amount was produced across three mint facilities and distributed to the public.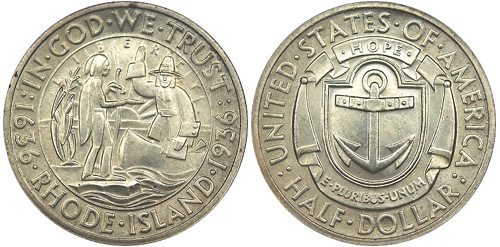 Designs for the coins were created by John Howard Benson and Arthur Graham Carey. Their original models did include reference to the Providence with inscriptions around the outer edge of the coin on the obverse "In a scene of God's Merciful providence until me, called the place Providence" and on the reverse "State of Rhode Island and Providence Plantation Tercentenary". These lengthy inscriptions were not used in the final version of the design.
The obverse features a scene of John Williams in a canoe, holding a bible, and greeting a Native American who stands on the shore extending a hand. The "sun of religious liberty" appears in the background. Inscriptions read, "In God We Trust", "Rhode Island", "1636", "1936", and "Liberty". The reverse design features an anchor and shield motif, adopted from the Rhode Island state seal. The inscriptions read "United States of America", "Half Dollar", "Hope", and "E Pluribus Unum". These designs were struck in low relief, but with sharply designed elements that resemble a woodcut.
Including pieces struck for assay, the Philadelphia Mint produced 20,013, the Denver Mint 15,010, and the San Francisco Mint 15,011. The Rhode Island Half Dollars were issued for $1 each and said to have sold out quickly, however it was later suspected that some insiders held back portions of their allotments in order to sell them to the public at higher prices after the so-called sell out.
Due to the nature of the design, contact marks may be prominent on the obverse and reverse. A small number of the coins are found with proof like surfaces, and these pieces command a premium.

Rhode Island Half Dollar Coin Specifications
Designer: John Howard Benson, Arthur Graham Carey
Composition: 90% silver, 10% copper
Weight: 12.50 grams
Diameter: 30.6 mm
Authorization: Public Law 74-48
Maximum Authorized Mintage: 50,000
Rhode Island Half Dollar Mintage
1936: 20,013
1936-D: 15,010
1936-S: 15,011