The 150th anniversary of the founding of the city of Columbia, South Carolina was celebrated with the issuance of a commemorative coin. A single design was struck at three different mint facilities, a practice that was later prohibited after abuses by other programs.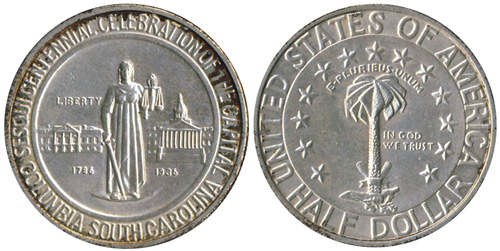 A 32-year old student sculptor named A. Wolfe Davidson was the designer of the 1936 Columbia Sesquicentennial Half Dollar (Buy on eBay). His initial designs were criticized by the Director of the United States Mint and rejected by the Commission of Fine Arts who said that his models were "unsatisfactory" and "lack artistic merit." After revisions to the models under a more experienced sculptor, the designs were eventually accepted.
The obverse design features the goddess Justice holding a sword and scales. To her left is the State Capitol building of 1786 and to her right is the Capitol of 1936. Around the edge of the coin are the inscriptions "Columbia, South Carolina, Sesquicentennial Celebration of the Capitol". Within the central area are further inscriptions "Liberty" and the dates "1786" and "1936".
On the reverse is a palmetto tree, a symbol of South Carolina, with an arrangement of thirteen stars around. Inscriptions around the edge of the coin read "United States of America" and "Half Dollar". Additional inscriptions within the central area read "E Pluribus Unum" and "In God We Trust".
Production of the coins consisted of 9,007 pieces struck at Philadelphia, 8,009 struck at Denver ,and 8,007 struck at San Francisco. The Columbia Sesqui-Centennial Commission offered the coins for sale individually at $2.15 per coin, or as a set of three coins at $6.45. For the initial 24 hours of sales, the coins were exclusively available to residents of the city, after which point mail orders were processed. A complete sell out was realized, with the coins distributed widely.

Columbia Half Dollar Coin Specifications
Designer: A. Wolfe Davidson
Composition: 90% silver, 10% copper
Weight: 12.50 grams
Diameter: 30.6 mm
Authorization: Public Law 74-476
Maximum Authorized Mintage: 25,000
Columbia Half Dollar Mintage
1936: 9,007
1936-D: 8,009
1936-S: 8,007