The Grant Memorial Gold Dollar (Buy on eBay) was issued to mark the 100th anniversary of Ulysses S. Grant's birth and to raise funds for the construction of memorial buildings in Ohio. The same set of obverse and reverse designs would also be used for the Grant Memorial Half Dollar, issued under the same authorization.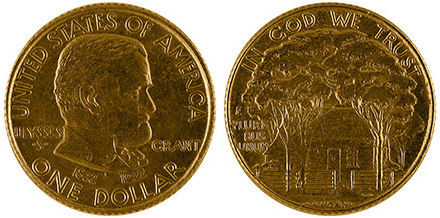 The obverse features a right facing portrait of Ulysses S. Grant, based on a Matthew Brady photograph. Inscriptions include "United States of America", "One Dollar", "Ulysses S. Grant", and the centennial dates "1822" and "1922". Half the mintage of gold dollars was struck with a star appearing above "Grant", a tactic intended to increase sales.
The reverse of the Grand Gold Dollar depicts the log cabin in which Grant was born surrounded by large trees. Inscriptions include "In God We Trust" and "E Pluribus Unum". The coins were designed by Laura Gardin Fraser, who would design several other commemorative coins in subsequent years.
The authorizing legislation provided for a maximum mintage of 10,000 of the 1922 Grant Memorial Gold Dollars. As requested by the Ulysses S. Grant Centenary Memorial Association, half of the mintage was struck with a star on the obverse. The coins with star were sold for $3.50 each, while the no star coins were sold for $3.

Grant Memorial Gold Dollar Coin Specifications
Designer: Laura Gardin Fraser
Composition: 90% gold, 10% copper
Weight: 1.672 grams
Diameter: 15 mm
Authorization: Public Law 67-137
Maximum Authorized Mintage: 10,000
Grant Memorial Gold Dollar Mintages
1922 with star: 5,106
1922 no star: 5,016