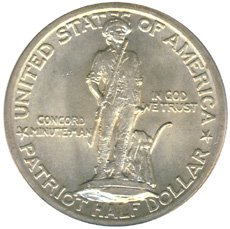 Early Commemorative Coin Mintages
Early Commemorative Coins issued between 1892 and 1954 experienced a wide range of mintages. Some issues had a mintage of just a few thousand pieces, while others exceeded one million coins. The absolute lowest mintage issue was the 1915 Panama Pacific Exposition $50 Gold Coin, with 645 octagonal and 483 round coins distributed.
The varying mintage levels were driven by a number of factors, one of which was the maximum or minimum level specified within authorizing legislation. For certain issues, the maximum was established at a level lower than actual demand, resulting in the entire mintage being sold out. In other cases, the maximum was too high, leaving the coins to be sold and sometimes minted for several years after the original release. In certain situations, a particularly low mintage was encouraged by the organizers behind the Commemorative issue to foster higher prices on the secondary market.
The number of Commemorative coins released during a particular year also had an impact on sales trends and resulting mintages. For example, in 1936 an outpouring of different issues led to an over saturation of the market and poor sales as collectors cut back or only selectively purchased offerings. In later years, a lengthy gap in releases led to pent up demand and higher sales for certain issues.
Other important factors were the theme of the Commemorative or the circumstances of its distribution. Certain issues such as the Stone Mountain Memorial Half Dollar were heavily promoted in order to raise money for a particular cause. A wider participation by banks and other channels of sale led to higher sales and greater distribution.
As opposed to other series, low mintages for individual Early Commemorative Coins are less significant than low mintages for a particular design. For example, many of the designs produced for multiple years and mint marks eventually saw mintages of just a few thousand pieces. While these do command premiums, they are viewed as less important than several issues produced for only a single year with a limited mintage. The three half dollars with mintages of about 10,000 each are the Old Spanish Trail Half Dollar, Hawaiian Sesquicentennial Half Dollar, and Hudson Sesquicentennial Half Dollar.
Included below are mintage figures for Early Commemorative Coins. These figures represent the net distribution, generally comprising the total mintage less the number returned for melting.
| | |
| --- | --- |
| Columbian Exposition Half Dollar | |
| 1892 | 950,000 |
| 1893 | 1,550,405 |
| Total: | 2,500,405 |
| Isabella Quarter | |
| 1893 | 24,214 |
| Lafayette Dollar | |
| 1900 | 36,026 |
| Louisiana Purchase Exposition Jefferson Gold Dollar | |
| 1903 | 17,500 |
| Louisiana Purchase Exposition McKinley Gold Dollar | |
| 1903 | 17,500 |
| Lewis and Clark Exposition Gold Dollar | |
| 1904 | 10,025 |
| 1905 | 10,041 |
| Total: | 20,066 |
| Panama Pacific Exposition $50 Gold Piece | |
| 1915-S Round | 483 |
| 1915-S Octagonal | 645 |
| Total: | 1,128 |
| Panama Pacific Exposition Quarter Eagle | |
| 1915-S | 6,749 |
| Panama Pacific Exposition Gold Dollar | |
| 1915-S | 15,000 |
| Panama Pacific Exposition Half Dollar | |
| 1915-S | 27,134 |
| McKinley Memorial Gold Dollar | |
| 1916 | 15,000 |
| 1917 | 5,000 |
| Total: | 20,000 |
| | |
| --- | --- |
| Illinois Centennial Half Dollar | |
| 1918 | 100,058 |
| Maine Centennial Half Dollar | |
| 1920 | |
| Pilgrim Tercentenary Half Dollar | |
| 1920 | 152,112 |
| 1921 | 20,053 |
| Total: | 172,165 |
| Missouri Centennial Half Dollar | |
| 1921 "2*4" | 9,400 |
| 1921 | 11,400 |
| Total: | 20,800 |
| Alabama Centennial Half Dollar | |
| 1921 "2X2" | 30,000 |
| 1921 | 35,000 |
| Total: | 65,000 |
| Grant Memorial Gold Dollar | |
| 1922 Star in Field | 5,016 |
| 1922 | 5,016 |
| Total: | 10,032 |
| Grant Memorial Half Dollar | |
| 1922 Star in Field | 4,256 |
| 1922 | 67,405 |
| Total: | 71,661 |
| Monroe Doctrine Centennial Half Dollar | |
| 1923-S | 274,077 |
| Huguenot-Walloon Tercentenary Half Dollar | |
| 1924 | 142,080 |
| Lexington-Concord Sesquicentennial Half Dollar | |
| 1925 | 162,013 |
| Stone Mountain Memorial Half Dollar | |
| 1925 | 1,314,709 |
| California Diamond Jubilee Half Dollar | |
| 1925-S | 86,594 |
| Fort Vancouver Centennial Half Dollar | |
| 1925 | 14,994 |
| Sesquicentennial of American Independence Quarter Eagle | |
| 1926 | 46,019 |
| Sesquicentennial of American Independence Half Dollar | |
| 1926 | 141,120 |
Oregon Trail Memorial Half Dollar
1926
47,955
1926-S
83,055
1928
6,028
1933-D
5,008
1934-D
7,006
1936
10,006
1936-S
5,006
1937-D
12,008
1938
6,006
1938-D
6,005
1938-S
6,006
1939
3,004
1939-D
3,004
1939-S
3,005
Total
203,102
Vermont Sesquicentennial Half Dollar
1927
28,142
Hawaiian Sesquicentennial Half Dollar
1928
10,008
Maryland Tercentenary Half Dollar
1934
25,015
Texas Independence Centennial Half Dollar
1934
61,463
1935
9,996
1935-D
10,007
1935-S
10,008
1936
8,911
1936-D
9,039
1936-S
9,055
1937
6,571
1937-D
6,605
1937-S
6,637
1938
3,780
1938-D
3,775
1938-S
3,814
Total
149,661
Daniel Boone Bicentennial Half Dollar
1934
10,007
1935
10,010
1935-D
5,005
1935-S
5,005
1935, 1934 on reverse
10,008
1935-D, 1934 on reverse
2,003
1935-S, 1934 on reverse
2,004
1936
12,012
1936-D
5,005
1936-S
5,006
1937
9,810
1937-D
2,506
1937-S
2,506
1938
2,100
1938-D
2,100
1938-S
2,100
Total
87,187
Connecticut Tercentenary Half Dollar
1935
25,018
Arkansas Centennial Half Dollar
1935
13,012
1935-D
5,505
1935-S
5,506
1936
9,660
1936-D
9,660
1936-S
9,662
1937
5,505
1937-D
5,505
1937-S
5,506
1938
3,156
1938-D
3,156
1938-S
3,156
1939
2,104
1939-D
2,104
1939-S
2,105
Total
85,302
Robinson-Arkansas Centennial Half Dollar
1936
25,265
Hudson Sesquicentennial Half Dollar
1935
10,008
San Diego California Pacific Exposition Half Dollar
1935-S
70,132
1936-D
30,092
Total
100,224
Old Spanish Trail Half Dollar
1935
10,008
Rhode Island Tercentenary Half Dollar
1936
20,013
1936-D
15,010
1936-S
15,011
Total
50,034
Cleveland Centennial Half Dollar
1936
50,030
Wisconsin Territorial Centennial Half Dollar
1936
25,015
Cincinnati Music Center Half Dollar
1936
5,005
1936-D
5,005
1936-S
5,006
Total
15,016
Long Island Tercentenary Half Dollar
1936
81,826
York County Tercentenary Half Dollar
1936
25,015
Bridgeport Centennial Half Dollar
1936
25,015
Lynchburg Sesquicentennial Half Dollar
1936
20,013
Elgin Centennial Half Dollar
1936
20,015
Albany Charter Half Dollar
1936
17,671
Bay Bridge Half Dollar
1936-S
71,424
| | | |
| --- | --- | --- |
| Columbia Sesquicentennial Half Dollar | | |
| 1936 | 9,007 | |
| 1936-D | 8,009 | |
| 1936-S | 8,007 | |
| Total | | 25,023 |
| | | |
| Delaware Tercentenary Half Dollar | | |
| 1936 | | 20,993 |
| | | |
| Battle of Gettysburg Half Dollar | | |
| 1936 | | 26,928 |
| | | |
| Norfolk Bicentennial Half Dollar | | |
| 1936 | | 16,936 |
| | | |
| Roanoke Half Dollar | | |
| 1937 | | 29,030 |
| | | |
| Battle of Antietam Half Dollar | | |
| 1937 | | 18,028 |
| | | |
| New Rochelle Half Dollar | | |
| 1938 | | 15,266 |
| | | |
| Iowa Centennial Half Dollar | | |
| 1946 | | 100,057 |
| | | |
| Booker T. Washington Half Dollar | | |
| 1946 | 700,546 | |
| 1946-D | 50,000 | |
| 1946-S | 500,279 | |
| 1947 | 6,000 | |
| 1947-D | 6,000 | |
| 1947-S | 6,000 | |
| 1948 | 8,005 | |
| 1948-D | 8,005 | |
| 1948-S | 8,005 | |
| 1949 | 6,004 | |
| 1949-D | 6,004 | |
| 1949-S | 6,004 | |
| 1950 | 6,004 | |
| 1950-D | 6,004 | |
| 1950-S | 62,091 | |
| 1951 | 210,082 | |
| 1951-D | 7,004 | |
| 1951-S | 7,004 | |
| Total | | 1,609,041 |
| | | |
| George Washington Carver Half Dollar | | |
| 1951 | 20,018 | |
| 1951-D | 10,004 | |
| 1951-S | 10,004 | |
| 1952 | 1,106,292 | |
| 1952-D | 8,006 | |
| 1952-S | 8,006 | |
| 1953 | 8,003 | |
| 1953-D | 8,003 | |
| 1953-S | 88,020 | |
| 1954 | 12,006 | |
| 1954-D | 12,006 | |
| 1954-S | 42,024 | |
| Total | | 1,332,392 |