Amidst the proliferation of different Arkansas Centennial Half Dollar coins issued, a separate version with a new obverse design was issued in 1936. This was made possible through the passage of separate legislation authorizing the issuance of one new design with a maximum mintage of 50,000 pieces. The resulting 1936 Robinson-Arkansas Half Dollar (Buy on eBay) is also notable because it contains a Senator who was living at the time of mintage.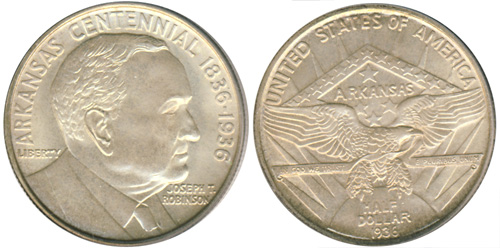 The obverse design (which was referred to as the reverse at the time of issue) features the head of Senator Joseph T. Robinson. He was a well known figure within Arkansas having served in the House of Representatives, as governor, and finally within the Senate. An inscription above reads "Arkansas Centennial 1836-1936" with additional inscriptions "Liberty" and "Joseph T. Robinson". The design was created by Henry G. Kreis based on sketches by Enid Bell.
On the other side of the coin, the design used for the Arkansas Half Dollar was maintained, which features a bald eagle standing on a sun with rays. An eagle is in its mouth with inscriptions "In God We Trust" and "E Pluribus Unum". The words "United States of America" and "Arkansas" appear above with "Half Dollar" and the date "1936". The design was by Edward Everett Burr, after models prepared by Emily Bates.
The initial production for the Robinson Half Dollar was 25,265 pieces, which were to be distributed by Stack's. The coins were offered at $1.85 each, but the quantity available failed to sell out and is said to have been sold to dealers in bulk quantities at lower prices in subsequent years. For present day collectors, the issue remains relatively available since the original issue went mostly into the hands of collectors or dealers.

Robinson-Arkansas Half Dollar Coin Specifications
Designer: Henry Kreis
Composition: 90% silver, 10% copper
Weight: 12.50 grams
Diameter: 30.6 mm
Authorization: Public Law 74-831
Maximum Authorized Mintage: 50,000
Robinson-Arkansas Half Dollar Mintages
1936: 25,265