The 1927 Vermont Sesquicentennial Half Dollar (Buy on eBay) was issued to commemorate the 150th anniversary of the Battle of Bennington and the independence of Vermont. This occurred in 1777, and it was not until 1791 that Vermont would join the Union.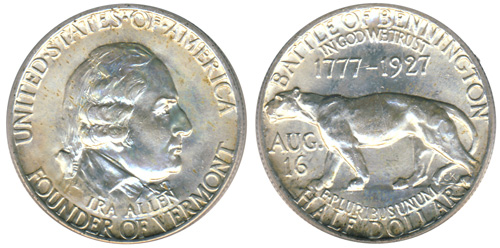 Designs for the coin were by Charles Keck, who had earlier create the design for the Panama-Pacific Gold Dollar. His design for the 1927 Vermont Half Dollar was executed in the highest relief of any early commemorative half dollar issued. The obverse of the coin depicts Ira Allen, the founder of Vermont and one of the Green Mountain Boys, who would defeat the British at the Battle of Bennington. The inscriptions include "United States of America", "Ira Allen", and "Founder of Vermont".
The design for the reverse of the coin was a point of contention for those involved in the design process. Other possibilities had included an image of the Bennington Monument obelisk and an image of the Catamount Tavern where the Green Mountain Boys would meet. It was eventually decided that the image of a catamount would represent be more appropriate as a representation of the tavern. Inscriptions on the reverse include "Battle of Bennington", "In God We Trust", "1777-1927", "Aug 16", "E Pluribus Unum", and "Half Dollar".
The original issue price for the Vermont Sesquicentennial Half Dollar was $1, with sales conducted by the Bennington Battle Monument and Historical Association. Out of the maximum authorized mintage of 40,000 pieces, a total of 28,142 were distributed and the rest were returned to the Mint for melting.

Vermont Sesquicentennial Half Dollar Coin Specifications
Designer: Charles Keck
Composition: 90% silver, 10% copper
Weight: 12.50 grams
Diameter: 30.6 mm
Authorization: Public Law 68-452
Maximum Authorized Mintage: 40,000
Vermont Sesquicentennial Half Dollar Mintages
1927: 28,142